Job Retention, SSP Relief And Self-Employed Support
Extended Coronavirus Job Retention Scheme – update with the below details
The Coronavirus Job Retention Scheme (CJRS) (also known as the Furlough scheme) has been extended until the end of September 2021. The current level of support with employees receiving 80% of their current salary for hours not worked, up to a maximum of £2,500 will remain in place until the end of June and then from July employers will begin to make contributions. The following table provides a good summary of the changes through the tapered support period of 1 July to 30 September.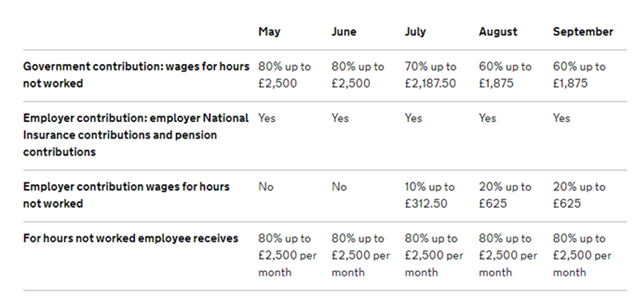 All employers are eligible
There is no maximum number of employees you can claim for from 1 November 2020
Businesses will have flexibility to bring furloughed employees back to work on a part-time basis or furlough them full-time
Employers can furlough employees for any amount of time and any work pattern
Businesses will need to cover National Insurance and employer pension contributions
Employees continue to maintain all their employment rights and accrue holiday pay as previously
for periods starting on or after 1 May 2021, you can claim for employees who were employed on 2 March 2021, as long as you have made a PAYE Real Time Information (RTI) submission to HMRC between 20 March 2020 and 2 March 2021, notifying a payment of earnings for that employee.
You do not need to have previously claimed for an employee before the 2 March 2021 to claim for periods from starting on or after 1 May 2021.
GUIDANCE: Steps to take before calculating your claim using the Coronavirus Job Retention Scheme CLICK HERE>>>
GUIDANCE: Check which employees you can put on furlough to use the Coronavirus Job Retention Scheme CLICK HERE>>>
GUIDANCE: Calculate how much you can claim using the Coronavirus Job Retention Scheme CLICK HERE>>>
Self-Employment Scheme Extension Guidance – Change the title to "Self Employed Income Support Scheme (SEISS) Extension"
The SEISS scheme has also been extended until September and the guidance on the fourth grant has been published. The grant will be set at 80% of 3 months' average trading profits, paid out in a single instalment and capped at £7,500. It will take into account 2019 to 2020 tax returns and will be open to those who became self-employed in the 2019/20 tax year. The rest of the eligibility criteria remain unchanged.
The online claims service for the fourth grant will be available from late April 2021 until 31 May 2021 and will be followed by a fifth and final grant which will cover the period from July – September.
Statutory Sick Pay Relief Package For SMEs
Small and medium-sized businesses and employers can reclaim Statutory Sick Pay (SSP) paid for sickness absence due to COVID-19.
The refund will cover up to 2 weeks' SSP per eligible employee who has been off work because of COVID-19.
Employers with fewer than 250 employees will be eligible – the size of an employer will be determined by the number of people they employed as at 28 February 2020.
Employers will be able to reclaim expenditure for any employee who has claimed SSP (according to the new eligibility criteria) as a result of COVID-19.
Repayments will be at the relevant rate of SSP that has been paid to current or former employees for eligible periods of sickness starting on or after 13 March 2020.
Employers should maintain records of staff absences and payments of SSP, but employees will not need to provide a GP fit note. If evidence is required by an employer, those with symptoms of coronavirus can get an isolation note form NHS 111 online and those who live with someone that has symptoms can get a note from the NHS website.

Employers can claim from the first qualifying day that an employee is off work if the period of sickness started on or after:

 

13 March 2020

 

- if an employee had coronavirus or the symptoms or is self-isolating because someone they live with has symptoms
16 April 2020

 

- if an employee was shielding because of coronavirus
28 May 2020

 

- if an employee has been notified by the NHS or public health bodies that they've come into contact with someone with coronavirus, employers can claim from the first qualifying day an employee is off work if the period of sickness started on or after:

Tax agents will also be able to make claims on behalf of employers.
Employers can make a claim for SSP paid due to coronavirus to employees who have been transferred under TUPE if you had:

a PAYE scheme that was created and started on or before 28 February 2020
fewer than 250 employees (including TUPE transferred employees) across all PAYE payroll schemes on 28 February 2020