The UK Government has released further information about how the UK will recover from the COVID-19 pandemic, setting out the plans for moving to the next phase of its response to the virus. This strategy sets out a cautious roadmap to easing existing measures in a safe and monitored way, subject to successfully controlling the virus and being able to track and react to its spread. The roadmap will be kept constantly under review as the epidemic, and the world's understanding of it, develops.
As part of this plan the UK Government has a carefully planned timetable for lifting restrictions, with indicative dates that should help people to plan. This timetable depends on successfully controlling the spread of the virus; if the evidence shows sufficient progress is not being made in controlling the virus then the lifting of restrictions may have to be delayed. They cannot predict with absolute certainty what the impact of lifting restrictions will be. If, after lifting restrictions, the Government sees a sudden and concerning rise in the infection rate then it may have to re-impose some restrictions. It will seek to do so in as limited and targeted a way as possible, including reacting by re-imposing restrictions in specific geographic areas or in limited sectors where it is proportionate to do so.
We've pulled together a summary of the key points that will affect our industry below. Whilst these measures have been announced, they are broad in their meaning and we will continue to push for clairity on many of these points over the coming days, updating the industry with the latest news.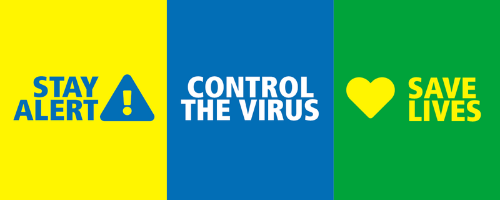 STEP ONE (FROM THE 13TH MAY)
WORK
For the foreseeable future, workers should continue to work from home rather than their normal physical workplace, wherever possible.
All workers who cannot work from home should travel to work if their workplace is open. The only exceptions to this are those workplaces such as hospitality and non-essential retail which during this first step, the Government is requiring to remain closed.
As soon as practicable, workplaces should follow the new "COVID-19 Secure" guidelines which will be published this week.
SCHOOLS
The rate of infection remains too high to allow the re-opening of schools for all pupils yet.
TRANSPORT
When travelling, everybody (including critical workers) should continue to avoid public transport wherever possible. If they can, people should instead choose to cycle, walk or drive, to minimise the number of people with whom they come into close contact.
Social distancing guidance on public transport must be followed rigorously.
FACE COVERING
On Friday 31st July, the Government issued the following new guidance on wearing face marks. This guidance will become mandatory on Saturday 8th August. The inclusion of the public areas of hotels (expect this will apply to all holiday accommodation) as well as indoor attractions, entertainment and cultural venues.

 

Where will people need to wear face coverings?

We are now recommending that face coverings are worn in additional indoor settings and this will be enforceable in law.

Currently you are required to wear face coverings in shops, supermarkets, indoor shopping centres, indoor transport hubs and public transport.

For members of the public, from 8 August this will be expanded to include:

funeral directors
premises providing professional, legal or financial services
cinemas
theatres
bingo halls
concert halls
museums, galleries, aquariums, indoor zoos or visitor farms, or other indoor tourist, heritage or cultural sites
nail, beauty, hair salons and barbers - other than where necessary to remove for treatments
massage parlours.
public areas in hotels and hostels
places of worship
libraries and public reading rooms
community centres
social clubs
tattoo and piercing parlours
indoor entertainment venues (amusement arcades, funfairs, adventure activities such as laser quest, go-karting, escape rooms, heritage sites)
storage and distribution facilities
veterinary services
auction houses

We recommend face coverings are worn in these settings now, but this will not be mandatory until 8 August.
PUBLIC SPACES
People can now also spend time outdoors subject to:

not meeting up with any more than one person from outside your household;
continued compliance with social distancing guidelines to remain two metres (6ft) away from people outside your household;
good hand hygiene, particularly with respect to shared surfaces;
those responsible for public places being able to put appropriate measures in place to follow the new COVID-19 Secure guidance.

People may exercise outside as many times each day as they wish. For example, this would include angling and tennis. You will still not be able to use areas like playgrounds, outdoor gyms or ticketed outdoor leisure venues, where there is a higher risk of close contact and touching surfaces. You can only exercise with up to one person from outside your household – this means you should not play team sports, except with members of your own household.
People may drive to outdoor open spaces irrespective of distance, so long as they respect social distancing guidance while they are there, because this does not involve contact with people outside your household.
INTERNATIONAL TRAVEL
In order to keep overall levels of infection down and in line with many other countries, the Government will introduce a series of measures and restrictions at the UK border.
The Government will require all international arrivals not on a short list of exemptions to self-isolate in their accommodation for fourteen days on arrival into the UK.
All journeys within the Common Travel Area will also be exempt from these measures.
These international travel measures will not come into force on 13 May but will be introduced as soon as possible.
STEP TWO (NO EARLIER THAN 1ST JUNE)
A phased return for early years settings and schools.
Opening non-essential retail when and where it is safe to do so, and subject to those retailers being able to follow the new COVID-19 Secure guidelines.
Permitting cultural and sporting events to take place behind closed-doors for broadcast, while avoiding the risk of large-scale social contact.
Re-opening more local public transport in urban areas, subject to strict measures to limit as far as possible the risk of infection in these normally crowded spaces.
The Government has asked SAGE to examine whether, when and how it can safely change the regulations to allow people to expand their household group to include one other household in the same exclusive group.
STEP THREE (NO EARLIER THAN 4TH JULY)
Subject to their ability to comply with COVID-19 Secure guidelines, the Government may permit the re-opening of at least some of the remaining businesses and premises that have been required to close, including:

personal care (such as hairdressers and beauty salons);
hospitality (such as food service providers, pubs and accommodation);
public places (such as places of worship);
leisure facilities (like cinemas).
Download the full UK Government recovery plan document here.